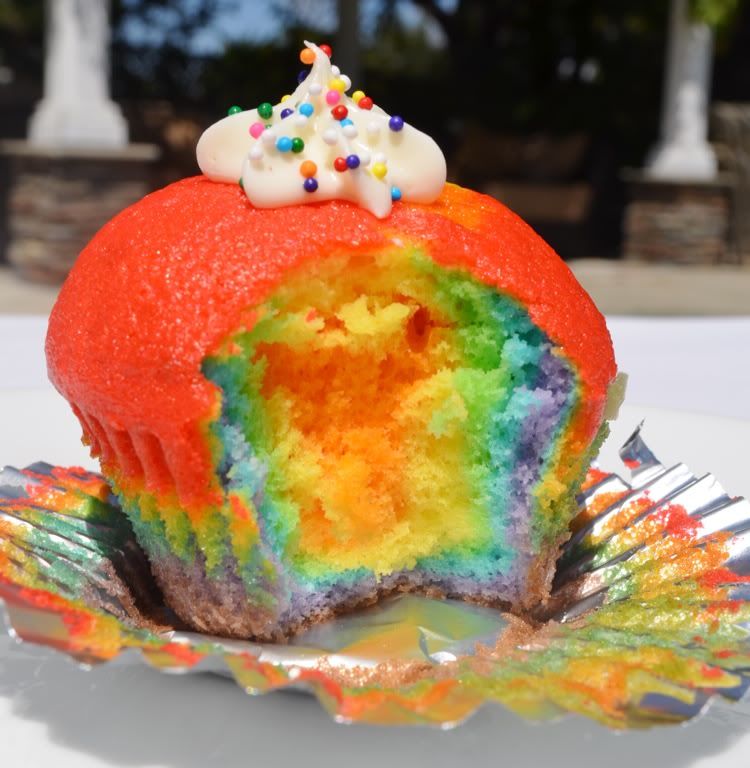 '
Adapted from Wee Kitchen
The other day, I had the pleasure of baking with two of my very good gal pals from school, N- and C-. We were trying out recipes for an upcoming bake sale (SQUEEEE!) that would benefit orphans in Korea. We didn't want to do anything too fancy or time consuming (cost-benefit analysis), but did try our hand at these rainbow cupcakes, along with some cake pops.
Now, let me tell you, these were TONS of fun to make, and even more fun to eat. C- and I literally squealed (and yes, I mean squealed) with excitement after biting into one from our first batch. The pictures I took don't nearly do the final product justice, because they look even better in person.
I'm glad we did a few trial runs before our big bake day, because we sure did learn from our mistakes. Initially, we over proportioned our cupcake batter and made SUPER cupcakes. Not that there's anything wrong with that, I mean, who doesn't love humongous cupcakes? Especially rainbow cupcakes. We also ran into some trouble with keeping our layers completely separate. In the end, our monster cupcakes ended up looking slightly radioactive at the top, as the red, orange, yellow, and green ascended into a mosaic of colors in the oven. We weren't to worried, and had not just a few laughs as we watched our cupcakes grow bigger and bigger, while looking more than a little bizarre at the top.
In the end, there was nothing a little frosting couldn't fix, and we considered our cupcakes a great success.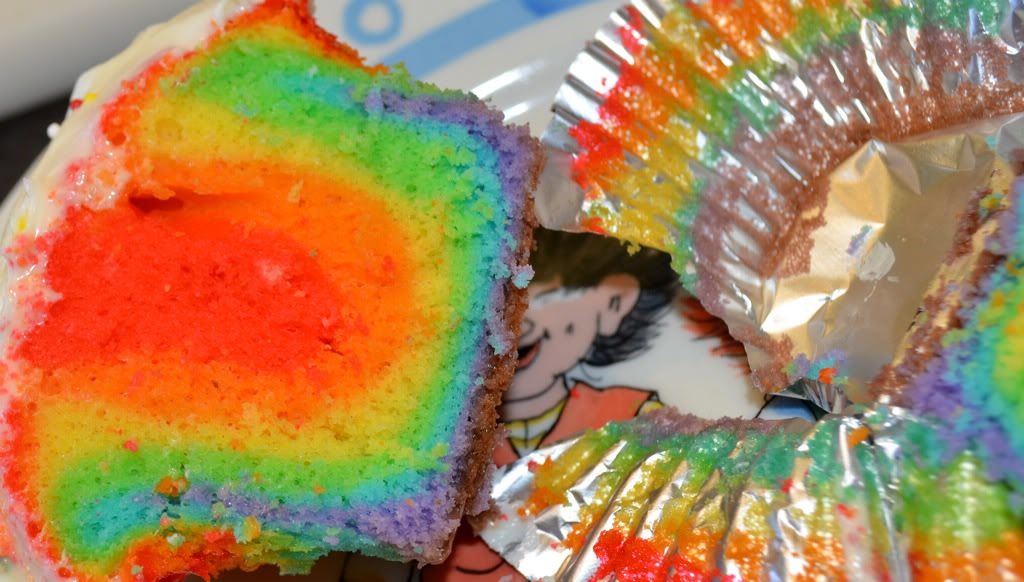 I honestly don't think these could be any easier to make. Just grab your favorite box or homemade vanilla cake recipe, and divide it into 7 bowls. Add in the corresponding rainbow color with food coloring, and use a small spoon to ladle in just a little, layer after layer (I started with the purple on the bottom). Cook for however long your cake mix takes to fully bake, and enjoy!
These would be great to bring in on St. Patty's day, along with any children's birthday parties. Now that I think of it, don't leave the adults out. Who wouldn't enjoy one? (or six).