Now, if you haven't already noticed, I tend to bake. A LOT. I am a neurotic, sporadic, obsessive baker, one that will try the same recipe three times in one day until I'm satisfied (or too exhausted to try again) with the results. Because of this, sweet pastries and cakes have taken over the majority of my blog, and I find that only a desperate few, shall we say real food recipes have been able to debut on my blog. Don't get me wrong, I love cooking, but my heart will always be in baking.
Every once in a while, though, I find a non-dessert food recipe that catches my eye. I'm not sure what it is, whether the bright colors or beautiful blog pictures, but it causes me to feel as if it would be a crime not to try. I stumbled upon the site:
Pip and Ebby
, and was immediately taken by Ebby's striking photography and mouthwatering recipes. One in particular drew me in, her Grilled Scallops with Quinoa and Fresh Veggies.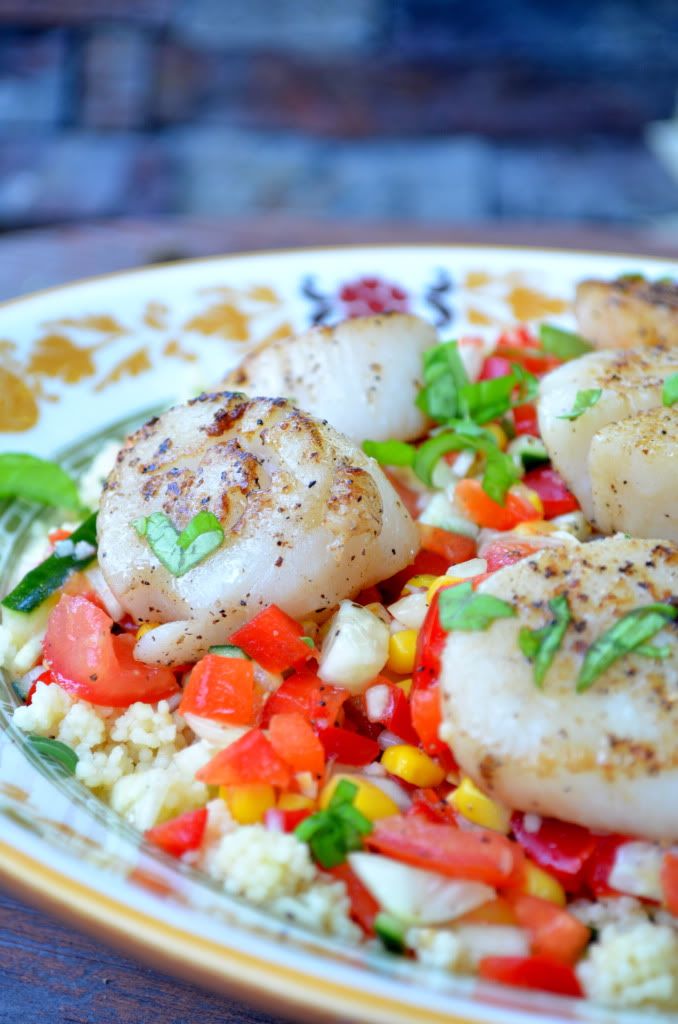 I've never had much experience with quinoa, in my ignorance assuming nothing could compare to Asian rice (I'm half Japanese; rice is basically in my blood), and was a bit skeptical in trying to cook it. However, the flavor and texture worked wonderfully, and I especially (and rather embarrassingly) enjoyed the "fluffing up" of the quinoa after it had absorbed the water.
After starting to cook, I realized that the vegetables in the recipe were raw. I was slightly surprised, assuming that everyone cooked their vegetables prior to adding them into a main course, however, the burst of freshness from each bite added flavors and textures that would have been non-existent if cooked.
Butter Seared Scallops with Quinoa and Fresh Vegetables
Slightly Modified from Pip and Ebby
2 large tomatoes, roughly diced
1 red bell pepper (green/yellow), roughly diced
1 large cucumber, skin peeled off and roughly diced
2 tbsp extra virgin olive oil
red pepper flakes, to to taste
salt and pepper, to taste
Butter Seared Scallops with Quinoa and Fresh Vegetables
Soak the sea scallops in 2 tbsp melted butter for 20-30 minutes.
While soaking, prepare the quinoa according to package and, when finished, enjoy fluffing it to its full potential with a fork.
In a medium-large bowl, add the tomatoes, red bell pepper, cucumber, corn, garlic, juice from the lime, olive oil, red pepper flakes, and salt and pepper to taste. (This will be delicious by itself! Try to practice self control and refrain from eating half of it. That would be absurd...)
Season the scallops with salt and pepper lightly on both sides and pan fry until cooked.
Layer first the quinoa, then the vegetable mixture, and lastly the seared scallops in a large serving bowl.
Enjoy :).
The final product is absolutely delicious, not to mention healthy, and makes an excellent main course. I definitely will keep this recipe saved and to try more of Ebby's delectable eats!