My family shares a common love for food, we just love to eat. So much so, that the entirety of our family events gyrate around great tasting meals. Simple lunches turn into a melting pot of delectable eats, not focusing on a meal with synchronized flavors, but rather a clash of different foods from around the world. Somehow, though, this eclectic mix comes together, just like our extended family, and in its offbeat tempo, finds a harmonious rhythm.
One of my favorite regulars at our get-togethers would have to be these delectable cream puffs that my Auntie and Uncle bring from a local bakery near their house. Now, let me tell you, these aren't your run of the mill cream puffs. These little fellows are a croissant-cream puff hybrid, making them light and airy, while upholding a dense, moist middle. I realize that I completely contradicted myself, but these cream puffs are magic. For reals, people, the creators of these little bites of heaven have preformed a miracle second only to the rising of Jesus. Okay, that statement might be a slight exaggeration, but they would at least be third or fourth. Actually, Jesus is probably in the kitchen helping to make them. That makes much more sense.
I tried to reproduce them, and came out with results that we're deliciously tasty, but not quite up to Jesus-cream puff par. These would have to be the second best cream puffs I have ever eaten, which is either saying a lot, or very little considering I have only ever eaten these and my Aunt's. I focused on using a custard base for the filling, rather than a whipped cream one, to help balance the fluffiness of the pastry itself. And, following Jesus-cream puff suit, added fresh organic strawberries from my local farmer's market, which brought to the table (literally) a whole new dimension of flavor.
I also had the benefit to learn how to make choux pastry, which has a very different method of preparing. Those silly Frenchies.
Light Choux Pastry with Sweet Custard Filling and Strawberries
1/8 cup all-purpose flour
3 teaspoons vanilla extract (or more to taste)
1/2 -3/4 cup sugar (to taste)
2 tablespoons unsalted butter
Preheat oven to 425 degrees. Combine the water and butter in a large pot and bring the mixture to a boil. Add in the flour and salt, stirring until the mix takes on the shape of a ball. Move the dough ball into a bowl, and rapidly beat in the eggs, taking care to mix quickly as to not cook the eggs. Use two spoon to roughly mold and transfer the dough to an ungreased baking sheet. Be sure not to use an ice cream scooper, because it will cause your pastries to be too dense and take on a doughnut-whole texture. Bake the pastries for 20-25 minutes until puffy and golden. While still in the oven, use a toothpick or chopstick to poke a whole in each of the pastries. This will allow the hot air to escape, and keep the cream puff from collapsing. Allow to cool completely.
To make the egg yolk custard, combine the flour and cornstarch in a small bowl and set aside. On medium heat, combine the milk, vanilla, and butter, allowing it to simmer, but stirring constantly to keep from burning the milk and creating lumps. Beat the eggs and sugar together until frothy. Stir in the mixture, whisking constantly. When combined, add in the flour and cornstarch. Stir constantly until thickened. Add more sugar and vanilla to taste, you want the custard to be sweet.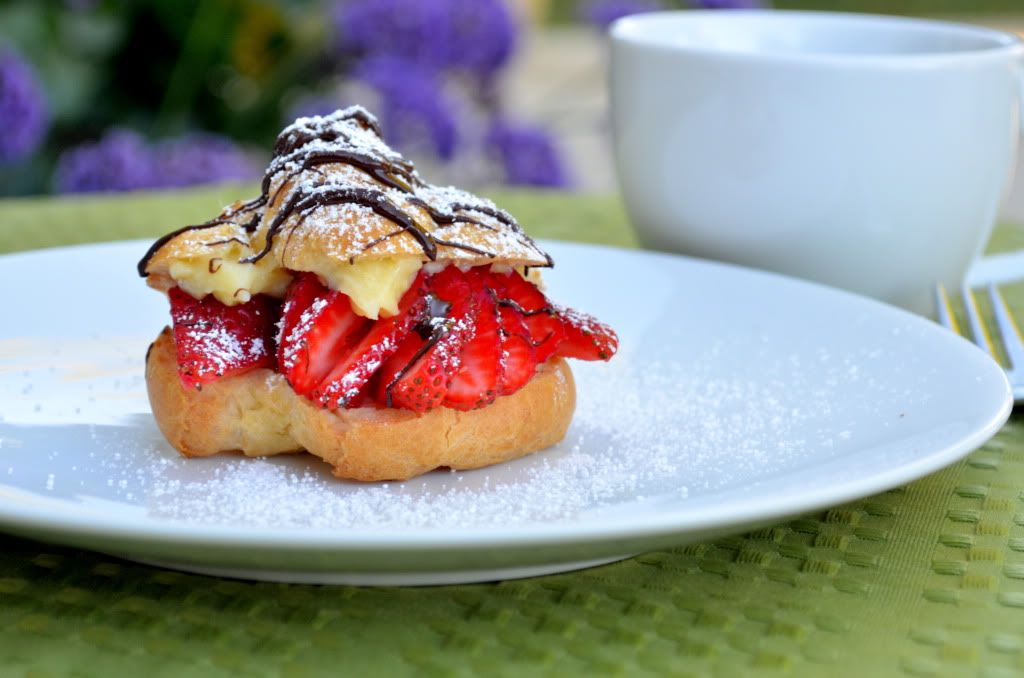 Allow the custard to cool completely. When cool, cut the pastry almost in half. Use a piping bag to pipe the desired amount of custard into the pastry. Add in cut strawberry halves, then pipe just a little more custard to the top to hold the pastry together. Garnish by drizzling bakers chocolate over the top with a fork and a dusting of powdered sugar.
Best served slightly chilled!